Let's get some inspiration for cooking and for life as well from the wonderful Julia Child on her 100th birthday!  From our 
short inspirational quotes
 collection: today's quote is about following your bliss and is given to us by the one and only
Julia Child
.  She is an inspiration both for her cooking but also for her
joie de vivre 
(joy of living).  She was able to embrace her passion and go for it — it's never too late.  So check below for one of Julia Child's quotes as well as a clip from the movie "Julie and Julia" —  you get a glimpse at Julia Child's experience in Paris and how her big culinary adventure at the
École du Cordon Bleu
(Cordon Bleu School) started.  Enjoy!
Julia Child on Following Your Bliss
Quote du Jour: Julia Child on Following Your Bliss
Art of the Home Uplifting Quote du Jour
English —  "I was 32 when I started cooking; up until then, I just ate."
– Julia Child (1912-2004), American Chef and Cookbook Author
French – "J'avais 32 ans quand j'ai commencé a cuisiner; avant ça, je mangeais seulement." 
– Julia Child (1912-2004), Chef Cuisinière Américaine et Auteure de Livres de Cuisine
Julie & Julia Movie – Julia Child at the École du Cordon Bleu
This is an clip from the movie "Julie and Julia" where you see Julia Child (played by the talented Meryl Streep) starting her cooking classes in Paris.  And what a start — that was in spite of the very rude and condescending French women who was heading up the Cordon Bleu culinary school at the time.  But that did not stop Julia Child, she kept her optimism and with determination went after her dream – we can all learn from that.  Love how she comes in a kitchen full of men chef in training at the École du Cordon Bleu and says "Bonjour" with her cheerful spirit and oh so sweet American accent– Meryl Streep captured her so well, enjoy!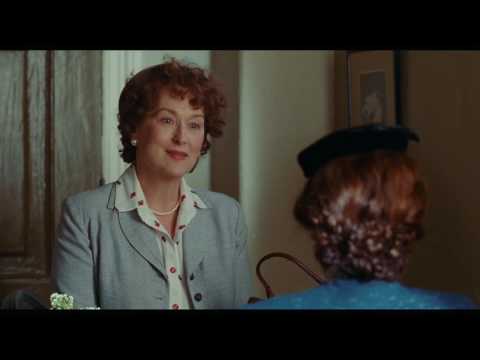 To add this movie to your DVD collection, you can get it on Amazon (currently over 25% off): Julie and Julia .  Or even better, if you are looking for a book to read, we have a great book for you.  Her lovely memoir My Life in France is a joy to read.   Julia Child takes you on her journey in France between 1948 to 1954 — simply a delightful read with many pictures taken by her husband Paul Child.  The paperback version is currently over 40% off on Amazon if you are interested: My Life in France.